First-Ever Doggie Dip at Tomlinson Aqua Park
Come to first-ever Doggie Dip at Tomlinson Aqua Park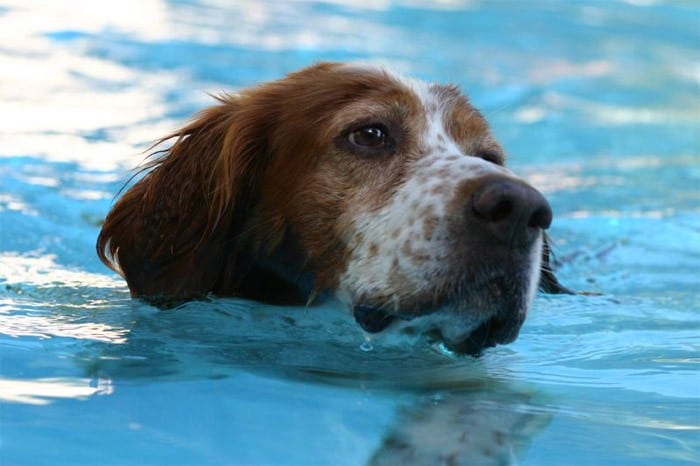 Photo credit: Kingston Herald
Unleash your dog for a play date at Tomlinson Aqua Park.  The City of Kingston is holding the first-ever Summer's End Doggie Dip on Saturday, Sept. 17 – the last day of operation for the pool.
"We wanted to offer owners a chance to have some fun with their dogs at the pool and closing day seemed like a great time to start this annual tradition," says Lynda Breen, supervisor, recreation programs.
There will be two Doggie Dips times at Tomlinson Aqua Park, 303 York St.:
– Dogs under 30 pounds swim from 5-5:45 p.m.
– Dogs 31 pounds or more swim from 6-6:45 p.m.
You must register your dog to participate ahead of time.
Please be prepared to meet the requirements and follow these rules aimed at keeping all participants happy and safe:
– The Doggie Dip costs $8 a dog and only people-and-dog-friendly dogs are permitted.
– There's a two dog per person limit – and also a two person per dog limit.
– Children under 13 are not permitted to this event and all human participants must sign a waiver.
– You need to provide proof your pet is licensed and vaccinated for Rabies and Bordatella.
– Dogs must enter through the patio gate entrance and are not permitted in the change rooms.
– You must have a leash with you and you are responsible for supervising your dog in and out of the water.
– You may wade into the water up to your knees, but you may not swim with the dogs.
– No dog toys are permitted.
Remember to pack dog waste bags, sunscreen and a water bottle, too!
Tell your friends they can find information on the Doggie Dip online here.
---
About the City of Kingston

The City of Kingston provides municipal services to 125,000 residents living in this visually stunning, historic city, often ranked one of the best places to live in Canada. Kingston is focusing on being smart and livable as it pursues its vision to become Canada's most sustainable city. We focus on environmental responsibility, social equity, economic health and cultural vitality –ensuring that today's decisions don't compromise our future.

Please visit The City of Kingston and join the conversation on social media: