Celebrate the Grand Reopening of Victoria Park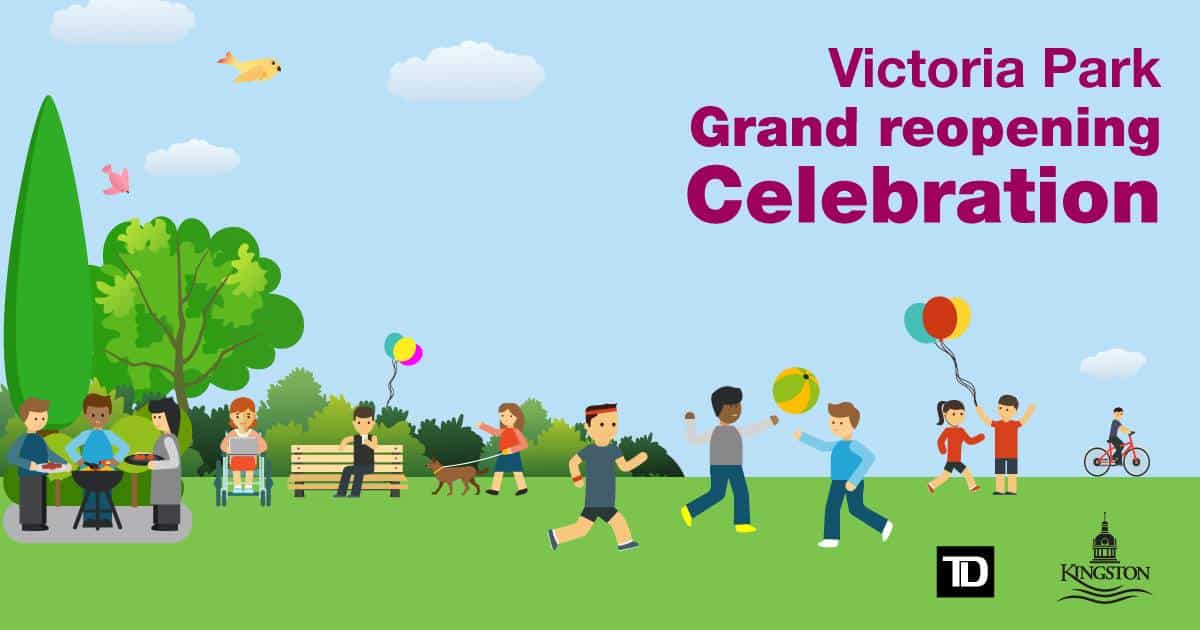 Come out and celebrate the grand reopening of Victoria Park on

Sunday, July 30

from

11 a.m. to 3 p.m.
"I'm so glad that enhancements to Victoria Park are finished including a new water play area, new tennis and basketball courts, and a BBQ/picnic zone. This beautiful park in the heart of downtown has something for everyone and I'm glad families will be able to enjoy this revitalized outdoor space!" said Mayor Bryan Paterson.
"We are thrilled to support the revitalization of Victoria Park in Kingston," said Tara Lynn Hughes, SVP Greater Ontario Region, TD Bank Group. "In Canada's 150th year, TD is focused on creating and revitalizing green spaces across the country to bring people together and find what we are calling 'TD Common Ground'. The completed park will provide a natural space for the community to come together to meet, talk and play. We know the redevelopment of Victoria Park will have a tremendously positive impact on children and families in Kingston for years to come."
Kingston is one of seven municipalities to benefit from the TD Common Ground Project, in celebration of Canada's 150th year of Confederation, which will support a diverse range of projects across Canada to help grown and enhance community green spaces.
The celebration will include:
Ribbon cutting and plaque unveiling at

11 a.m.

at Victoria Park.
Fun inflatable activities and games, balloon twisting, music and magical strolling entertainment
A free small ice cream (available to the first 200 guests)
A free small ice cream (available to the first 200 guests)
The Utilities Kingston Water Buggy (bring your refillable water bottle).
Local food trucks to purchase lunch from (bring cash) – or pack your own picnic
An accessible drop off area will be available on Mack St.
Plan your trip with Kingston Transit. Remember, children age 14 and under ride for free on Kingston Transit.
---
About the City of Kingston

The City of Kingston provides municipal services to 125,000 residents living in this visually stunning, historic city, often ranked one of the best places to live in Canada. Kingston is focusing on being smart and livable as it pursues its vision to become Canada's most sustainable city. We focus on environmental responsibility, social equity, economic health and cultural vitality –ensuring that today's decisions don't compromise our future.

Please visit The City of Kingston and join the conversation on social media: