Coming to Kingston: SESQUIdome to Feature HORIZON
Starting today!
Coming to Kingston: SESQUIdome to feature HORIZON – a 360° cinematic experience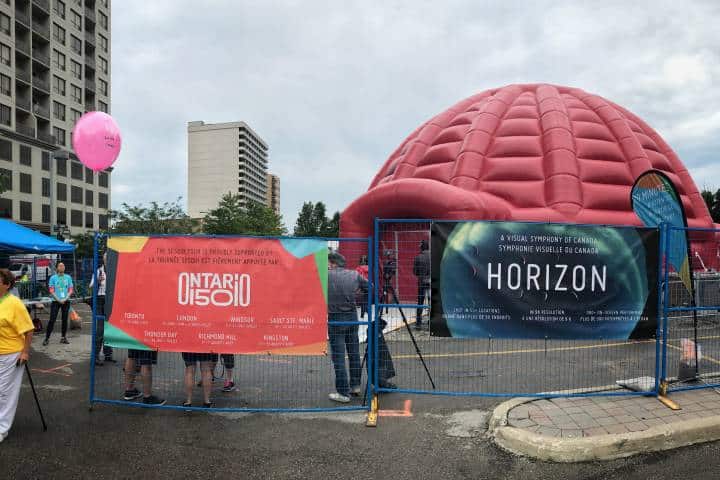 From Aug. 11 to 15, the City of Kingston is hosting SESQUI, a Canada 150 Signature Initiative, across from the Rogers K-Rock Centre.
There – inside the giant, inflatable SESQUIdome – viewers will enjoy a once-in-a-lifetime chance to see HORIZON – A Visual Symphony of Canada, a high-definition, 360° cinematic experience.
HORIZON is 22 minutes long, and will be screened every half-hour in the SESQUIdome at the Frontenac parking lot, 28 The Tragically Hip Way:
Friday, Aug. 11 to Monday, Aug. 14

from

12 p.m. to 10 p.m.

Tuesday, Aug. 15

from

10 a.m. to 7:30 p.m.
Admission is free and on a first come, first served basis.
"I'm really looking forward to the launch event of SESQUI HORIZON here in Kingston. This film captures the incredible beauty of Canada from coast-to-coast-to-coast using state-of-the-art technology. This project, meant to commemorate Canada's 150th, uses a unique approach to storytelling and I'm excited to see Kingstonians enjoy what is sure to be a truly inspiring experience," said Mayor Bryan Paterson.
"Over the past few weeks, we've had the opportunity to share this unique experience with thousands of Canadians from all origins, ages, and backgrounds, many moved to tears by HORIZON's artistry and celebration of this great country," said Joanne Loton, SESQUI Executive Producer. "With nearly a hundred scenes spanning every province and territory, gripping music and truly original visuals, there's something in this film for everyone. As Canada 150 celebrations continue across the country past Canada Day, we hope to offer Canadians a once-in-a-generation experience they'll never forget."
"Ontario's 150th anniversary is an opportunity to come together and celebrate the incredible province we live in. A picture is worth a thousand words, and the SESQUI film HORIZON is a visual spectacle of special and unique moments across the country," said Eleanor McMahon, Minister of Tourism, Culture, and Sport.  "With SESQUI's dome in Kingston, families throughout the area will experience the magic of Ontario and Canada with this breathtaking film."
The SESQUI cinematic dome is generously supported by the province of Ontario as part of a line-up of Ontario150 celebrations taking place across the province in 2017. SESQUI is also a Canada 150 Signature Initiative, supported by the Government of Canada.
Travel to SESQUI by bus – plan your trip with the Kingston Transit trip planner.
---
About the City of Kingston

The City of Kingston provides municipal services to 125,000 residents living in this visually stunning, historic city, often ranked one of the best places to live in Canada. Kingston is focusing on being smart and livable as it pursues its vision to become Canada's most sustainable city. We focus on environmental responsibility, social equity, economic health and cultural vitality –ensuring that today's decisions don't compromise our future.

Please visit The City of Kingston and join the conversation on social media: