Emerald Ash-Borer Treatment Coming to Kingston
City to treat selected ash trees due to emerald ash borer.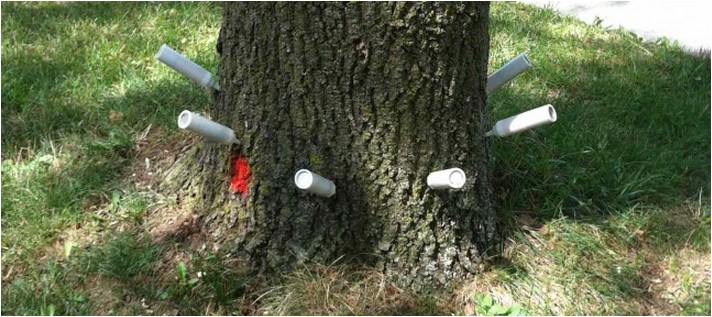 Starting next week, a City-hired contractor will begin treating selected City-owned ash trees to protect them from the emerald ash borer (EAB) infestation.
"The City-owned ash trees selected for treatment are assessed annually and treated bi-annually to prolong their lives. Over time, as trees decline and become hazardous, they will be scheduled for removal. The EAB program will begin planting replacement trees this fall in City parks and on City boulevards," says Troy Stubinski, manager, operations for public works.
Treating all the City's ash trees is cost-prohibitive and not sustainable, so many City ash trees have been removed and are being replaced with other species of trees over the next few years. Some of the new trees will be relocated to avoid existing infrastructure, such as power lines.
See where ash trees are being treated.
Homeowners may also visit that webpage to find out more about how to deal with their own ash trees.  Residents are encouraged to call an arborist for help.
The EAB Impact Cost Mitigation Plan outlines how the City deals with ash trees on its property. It is available for review and includes details on how the City is adhering to the Migratory Bird Convention Act.
The presence of emerald ash borer was verified in Kingston in 2013. Ash trees infested with the emerald ash-borer quickly become unsafe and turn to dust.  The invasive beetle kills ash trees over the course of two to six years.
---
About the City of Kingston

The City of Kingston provides municipal services to 125,000 residents living in this visually stunning, historic city, often ranked one of the best places to live in Canada. Kingston is focusing on being smart and livable as it pursues its vision to become Canada's most sustainable city. We focus on environmental responsibility, social equity, economic health and cultural vitality –ensuring that today's decisions don't compromise our future.

Please visit The City of Kingston and join the conversation on social media: