Kingston Blooms Celebrates Local Green Thumbs
Kingston Blooms Celebrates Local Green Thumbs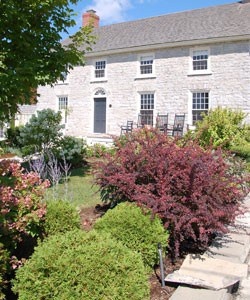 The City of Kingston's annual Kingston Blooms Best-kept Garden Awards celebrates the city's best green thumbs for their hard work keeping Kingston beautiful.
"Kingston is fortunate to have many spectacular gardens. This friendly 'test of the best' is a way to promote excellence in gardening, good horticultural practices and a sense of pride in accomplishment. And to celebrate Canada's sesquicentennial, we have also added a new Best-kept Red and White Garden category," says Sue Hitchcock, Kingston Blooms co-ordinator.
This 2017 Kingston Blooms awards will be given out in these categories:
–       Best-kept Small Garden
–       Best-kept Medium Garden
–       Best-kept Large Garden
–       Best-kept Commercial Garden
–       Best-kept Seniors Garden (65+)
–       Best-kept Community Garden
–       Best-kept Educational Institution Garden
–       Best-kept Faith Based Institution Garden
–       Best-kept Red and White Garden (garden must have a red and white theme)
Registration for the contest closes on

Friday, June 9

.
HOW TO REGISTER A GARDEN
See the contest rules and regulations and download the registration form.
You can also contact Sue Hitchcock, assistant supervisor recreation programs, at sueh@cityofkingston.ca , 613-546-4291, ext. 1716 or send in details by mail at Kingston Blooms, City of Kingston, 216 Ontario St., Kingston, ON, K7L 2Z3.
Please provide the following information:
–       Your first and last name, phone number and/or email address.
–       Street address of the garden you wish to nominate and the category in which it should compete.
–       If the garden you are nominating is not your own, please include the name, phone number and email address of the gardener being nominated.
The judging of the gardens will take place June 26-30 and residents can vote for their favourite gardens online from Aug. 4 to 18.
---
About the City of Kingston

The City of Kingston provides municipal services to 125,000 residents living in this visually stunning, historic city, often ranked one of the best places to live in Canada. Kingston is focusing on being smart and livable as it pursues its vision to become Canada's most sustainable city. We focus on environmental responsibility, social equity, economic health and cultural vitality –ensuring that today's decisions don't compromise our future.

Please visit The City of Kingston and join the conversation on social media: