#WasteNotYGK: Giveaway Day is this Saturday
This Saturday

is Giveaway Day – that's the day you put out reusable items you no longer want to your neighbours who might like them.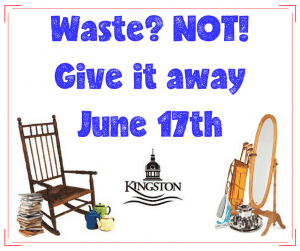 "Giveaway Days are a great way to remind us all that reusing items ourselves, or passing them on to someone who can, reduces waste," says Heather Roberts, the City of Kingston's manager of solid waste.
Share pictures of your Giveaway Day treasures on Twitter at #WasteNotYGK.
Giveaway Days are just one of the ways the City is working to help meet its goal to divert 60 per cent of household waste from landfill by 2018.
GIVEAWAY DAY GUIDELINES
Only set out appropriate items that you know someone else might want.
•      Appropriate: books, CDs, DVDs, furniture and small appliances, electronics, construction materials (including drywall, lumber, hardware), kitchen gadgets, dishes, cutlery, pots and pans and, yes, unwanted gifts.•       Inappropriate: the Consumer Product Safety Bureau of Health Canada advises that these items should not be given away (or picked-up): baby walkers, cribs, car seats, strollers, playpens, bath seats, mattresses, blinds and toys.
How to put items out:
•       Place items at the curb in front of your home.
•       Place stickers or signs on the items with the word 'FREE.'
•       Ensure any items that you do not want taken are kept away from items placed at the curb.
•       At the end of the day, bring any uncollected items back in to your home.
The City will not collect unwanted items left at the curb. Consider donating them to a local charity.
How to pick items up:
•       Respect other people's property: don't walk on people's lawns or gardens.
•       Take only the items marked 'FREE' and placed at the curb.
•       Don't leave previously picked up items on the curb at other people's property.
Find these guidelines here.
---
About the City of Kingston

The City of Kingston provides municipal services to 125,000 residents living in this visually stunning, historic city, often ranked one of the best places to live in Canada. Kingston is focusing on being smart and livable as it pursues its vision to become Canada's most sustainable city. We focus on environmental responsibility, social equity, economic health and cultural vitality –ensuring that today's decisions don't compromise our future.

Please visit The City of Kingston and join the conversation on social media: